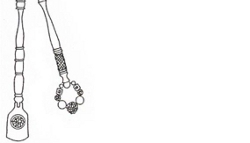 Purpose / History
Calendar of Events
Membership
Gallery
Learn
Members Only
Five Rivers Teachers
To study with any of these teachers, please contact info@fiveriversbobbinlace.org.
All of our teachers welcome beginners.
Susie Johnson (Beaver County): Withof, Point Ground, Torchon
Allie Marguccio (Indiana County): Idrija http://www.cipkausa.com/
Marion Rich (Westmoreland County): Point Ground, Torchon
Lee Uptegraff (Pittsburgh): Torchon, Beds
Kathy Kauffmann (Chicago, IL): Flanders, Torchon
Handouts
Links
Basic Supply List
Pillow - roller or "cookie" (at least 18" in diameter)
Pins - ordinary sewing pins work well with the heavier threads
Bobbins - use either the English spangled style or Continental - you'll need two dozen to start but will need a third dozen shortly thereafter. If you want to have spangled bobbins, use #24 brass wire and glass or ceramic beads. Plastic beads are too light but will work in a pinch.
Cover Cloths, worker cloths - at least two cloths, one to put between your pillow and your bobbins to protect your pillow while you're working and one to cover your pillow while you are not working. A dark piece of 100% cotton with a selvedge edge on one side works well.
Flat elastic, braid, ribbon, shoelace or string - to tie down your bobbins when you're not working
Pin Vise - to prick your pattern you will need a pin vise to hold the end of a #7 or #8 quilting needle (an X-Acto knife which opens into an "x" configuration works well)
Pricking Card - to make your patterns (medium blue railroad board works well)
Cork or Styrofoam - to prick your pattern on
Thread - 50/2 and 60/2 Swedish or Belgian linen work well with most beginner books
Corsage Pins
Beginner's Bibliography
101 Torchon Lace Patterns / Robin Lewis
The Bobbin Lace Manual / Geraldine Stott - an excellent beginner book
Introduction to Bobbin Lacemaking / Rosemary Shepard
An Introduction to Torchon Lace / Alison Tolson
The Technique of Bobbin Lace / Pamela Nottingham
Torchon Lacemaking, A Step-by-Step Guide / Jan Tregidgo
Suppliers
Five Rivers members Mike Hrotic, Tom Marguccio, and John Hirth all make custom bobbins and other lacemaking tools. For more information, please contact info@fiveriversbobbinlace.org.